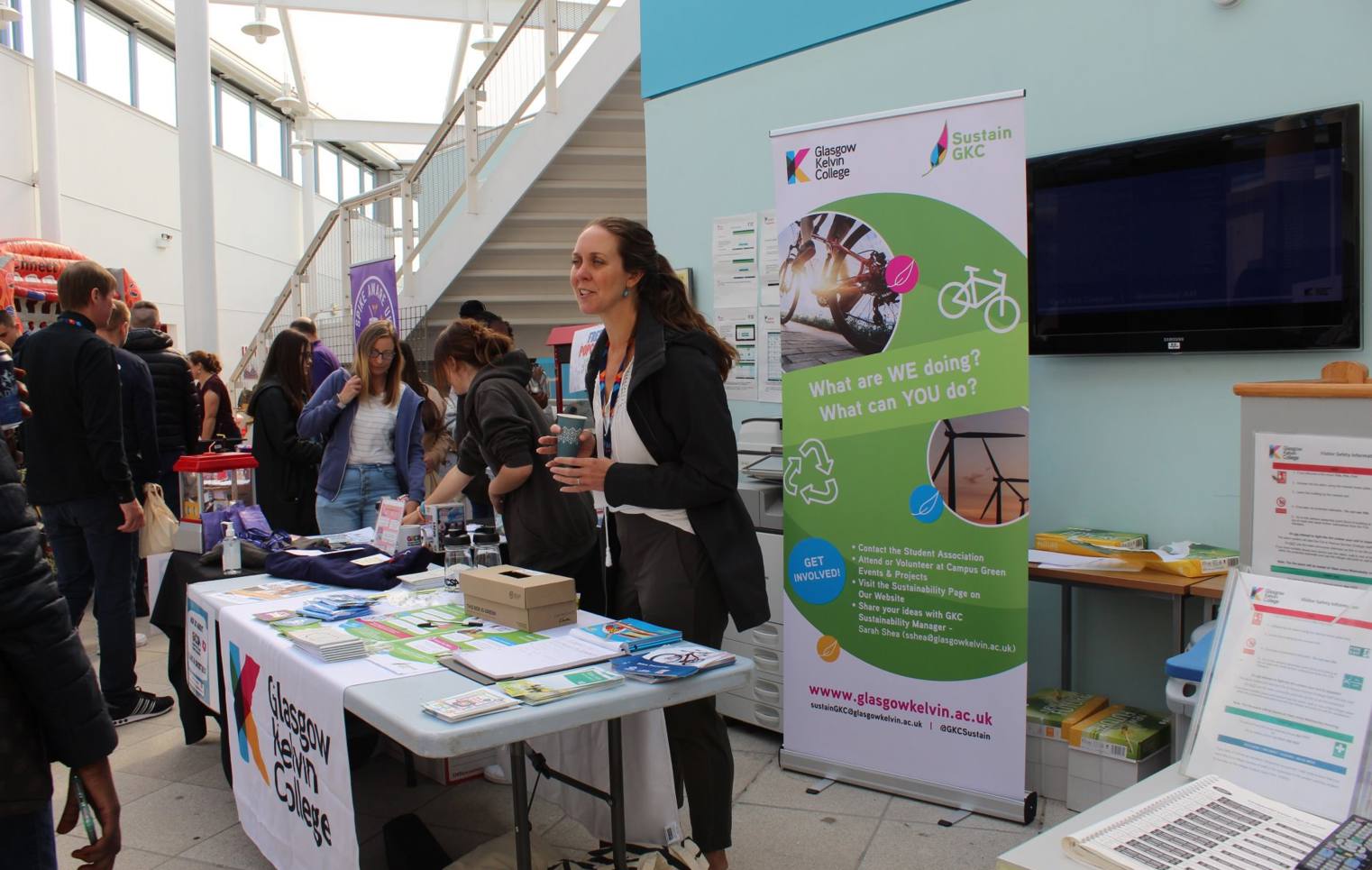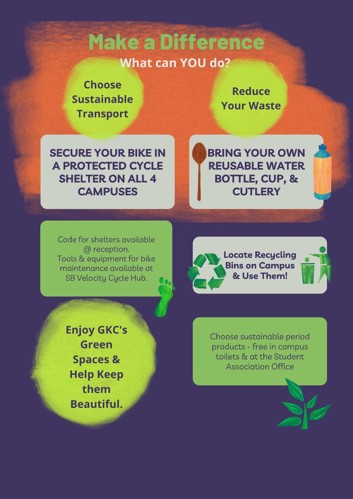 This is a list of simple steps you can take to try and reduce your own waste generation from day to day.
You don't have to do everything, and it may not seem as much, but anything you can do will mean that one less thing will end up going to landfill.
If you're still looking for ideas and further inspiration on what you can do, here are a few sites to help along the way:
Glasgow Kelvin College is always looking to celebrate and encourage sustainable choices and works to facilitate behaviour change.  Visit Kelvin's Sustain Twitter and Facebook pages to stay up to date on the latest events at the College and around Glasgow. 
Events include:
Green Week
Dr. Bike Sessions
Wildflower Planting
Frog Pond Installation
Community Partnerships
If you do have any ideas for a new activity you would like to see, suggestions for improving facilities, or thoughts on how to develop existing activities, please do not hesitate to get in touch by contacting Sarah Shea, Environmental Sustainability Manager, at SShea@glasgowkevlin.ac.uk
You can also follow what's happening on:
Our Twitter Feed @SustainKelvin
Our Facebook page @sustainGKC
What Is Education for Sustainable Development?
Education for Sustainable Development (ESD) empowers people to change the ways in which they engage with and work towards a more sustainable future. It works to build on the defined meaning of sustainable development shown below:
"Sustainable development is development that meets the needs of the present without compromising the ability of future generations to meet their own needs."
Our Common Future: Report of the World Commission on Environment and Development, 1987
The diagram below shows the range of opportunities Education for Sustainable Development can create, and the potential impact that can be achieved through its delivery, for example, creating new teaching and learning opportunities, and enhancing the skills and knowledge on subjects relating to all aspects of sustainability (social, economic, and environmental).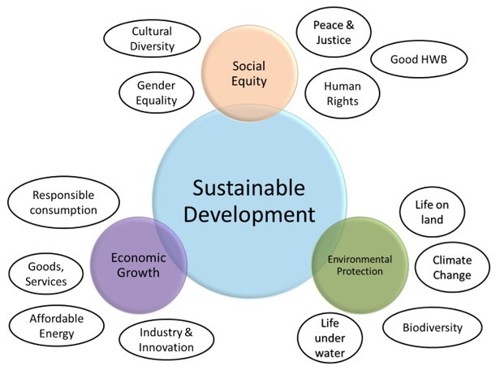 Teaching and Learning Approaches
Teaching and learning opportunities can take the form of Informal and Formal approaches. A list of options for the two approaches is shown below:
Informal
Project based learning
Organised responses to (inter)national campaigns (e.g. Climate Week, Plastic Free July)
Collaboration between different classrooms and departments
Debates on issues surrounding sustainability
Formal
Project based that encourages critical thinking, ethical practices and consumption, and self-reflection
Co-learning activities that encourages learners to discover what influences behaviour and attitudes towards sustainability; how to enable change in values and attitudes; practical elements that require independent learning; and finally self-reflection.
Learning through external partnerships e.g. working with the John Muir Trust, The Orchard Project
Assessing practices within your own department, for example:
Estates – opportunities to adopt circular economy (reuse/ recycle/ reduce)
Science – energy and chemicals being used; sustainability of experimental procedures; disposal of items.
Resource: Education for Sustainable Development
A number of resources are available to learn more about the teaching and learning opportunities provided by Education for Sustainable Development. A small selection of these are provided below, but further information can be accessed through the NUS and UNESCO sites.
Available resources
What are the Sustainable Development Goals?
There are 17 Sustainable Development Goals (also known as the Global Goals) in the Accord, which are a universal call to take action and help end poverty, protect and preserve our planet, and ensure that everyone enjoys and lives life in peace and prosperity.
Education has a critical role in delivering learning and action on the Sustainable Development Goals (SDGs), and the College is at the beginning of its journey in helping to achieve this.
There are already a number of exciting projects that have started around the College, which acknowledge the importance of environmental sustainability, and also help towards bringing about change for good and benefit to the wider community. To find out more about the SDG Accord and relevant projects, visit the EAUC site to learn more.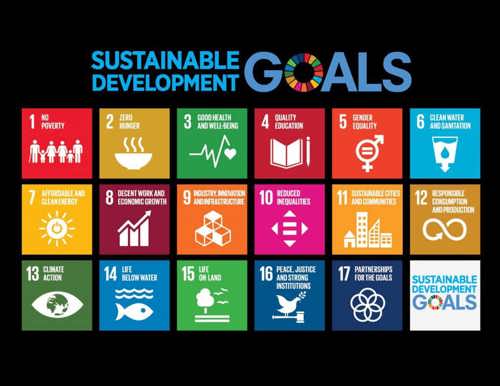 `