Duration
1 Year - 2.5 Days per week
Apply now
Course overview
Are you considering a career in Cookery or in a Front of House role?  It's perfect timing to learn and prepare for a future career in this dynamic, fast growing and exciting Hospitality industry
This course will provide you with a valuable qualification and preparation for employment in a range of hospitality and catering settings including Front of House or kitchen-based roles. The course is also an excellent foundation before moving on to further study. 
You will have the opportunity to prepare, cook, present, and serve a range of savoury and pastry dishes in our modern training facilities here at Kelvin and you will develop the confidence needed for a busy kitchen and front of house environment.
The course is designed and delivered to give you the opportunity to gain the practical skills and theoretical knowledge required to work in a professional kitchen, restaurant, bistro, café or in events catering. The programme is delivered within a training kitchen and bistro offering learners real-life practical learning and experience.
Relevant and modern industry content gives you the opportunity to develop employability and core skills that will help you prepare for future opportunities in this popular sector.
This course is a great starting point for a career in this vibrant and ever-changing industry.  On completion of this course, you could progress onto a range of roles in the Hospitality industry, customer facing or in a professional kitchen. You could also progress onto further study.
What you will learn
Course topics include:
Professional cookery skills and knowledge
Food Hygiene in the Hospitality Industry
Food Preparation Techniques
Cold Preparations
Stocks, Sauces, and Soups
Meat and Poultry
Pastry
Barista skills training
Food and Beverage service
Hospitality: Organisation of Practical Skills
Hospitality IT Administration.
Employability Skills
Entry requirements
There are no formal entry requirements however, you should be able to work at SCQF level 5.
You should have a keen interest in the catering and the hospitality industry and you should be able to demonstrate evidence of this.
If you have some hospitality experience, that would be an advantage.
Career Opportunities
You could progress to employment in a professional kitchen which may be as a trainee chef or commis chef, employment in a café or bistro, working in the Hotel or Events sectors, a Front of House role, or in a range of other roles within the Hospitality and Catering industry
Future prospects
You could progress to NC Advanced Professional Cookery Level 6 or other further study. 
Real Industry Connections
Industry guest visitors, business visits, enterprise opportunities, event planning and delivery, and work experience opportunities.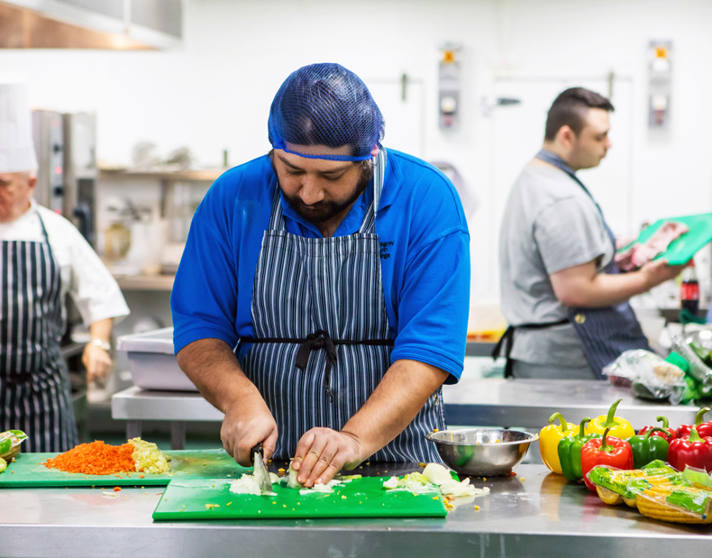 Working in the Hospitality Industry: NQ (Level 4)
Read more

`