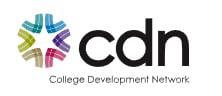 Glasgow Kelvin College is delighted to learn that it has been shortlisted in two different categories at this year's CDN Awards for its trailblazing approaches to innovative learning during the pandemic.
As a finalist in both the Digital Learning Award and College Community Learning Award categories, the College is thrilled to be recognised for its work during a challenging period for the sector.
With engaging online only being the order of the day in 2020, teaching staff were presented with the challenges around delivering practical skills, especially using craft techniques.  Through the 'Making Jewellery in a Digital World' project, the Jewellery provision identified that using high resolution, zoomable camera headsets which allowed the instructors to broadcast magnified shots of close hand design work, the students could learn remotely through instructional video.
Thereafter, the team supported students to develop CAD skills which enabled them to design jewellery in a virtual environment and produce their pieces on 3D printers.  These innovations helped all students to successfully complete their course.  Although this initially worked to mitigate the effects of limited access to workshop facilities, the innovative process has since been adapted and adopted on the return to full in-person learning with great success.
The processes deployed in this initiative are already being tweaked and adapted to suit the needs of other areas of the curriculum.
Glasgow Kelvin College's extensive community provision, as with all community-facing organisations, was severely challenged during the pandemic lockdown.  The closure of facilities and amenities for the local population was also impacting social cohesion and mental health.
To address this, the College established the 'Community and Youth Hub' at its Springburn campus in October 2020, two evenings per week, which created learning and lifestyle opportunities for young people and families.  Delivering learning tasters, fun activities, sports and trips in a covid-secure environment helped to bring together local residents and introduce them to a part of college life.
Working with local partners, the project has gone on from strength-to-strength with around 100 people attending each session and is now set to be replicated at the College's Easterhouse campus.
Principal Derek Smeall said;
"The circumstances around the pandemic became a springboard for real innovation throughout the college sector and here at Glasgow Kelvin College we worked extremely hard to ensure that our students received the best experience we could provide.  With original thought and extensive experience, staff adapted and transformed their skillsets to be more agile and flexible and make it happen.
I am delighted that our efforts have been recognised among the many impressive initiatives deployed across the sector to keep learners and our communities at the core of all we do."
The College is thrilled that its efforts have been acknowledged in this way and looks forward to the in-person ceremony to be held in late November at Glasgow's Radisson Blu Hotel.
Watch this space!