I'm really looking forward to the work placement element which kicks in this year where we will learn proper workplace skills.
Chloe Sinet
Civil Engineering FA Student
I definitely have a love for the darkroom and that's one thing I really like about this course.
It's been really good learning how to print and to process my own film.
Rosie Biggar
HND Photography Graduate
I've always been interested in engineering and when my Guidance Teacher at school spoke about the FA I was really keen to experience it and see what it would be like to be an engineer.  I really like being on-campus, getting to meet my fellow students and being involved in college life.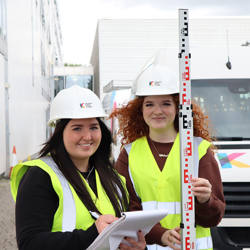 Chloe Sinet

Foundation Apprentice

`