Duration
2 Academic Years - 2.5 Days p/w
Campus
Springburn, Easterhouse
Applications open January 2024
Course overview
The fitness, health and exercise industry is this rapidly expanding, this course will help you to pursue a career from grass roots to high level performance.
Your learning will take place in our one of our high-performance gyms and in a classroom, but often out in the fitness industry itself.
You will gain a CIMPSA approved Level 2 Gym Instructor and level 3 Personal Trainer accreditation. Group Exercise Coach or an Exercise to Music Coach upon successful completion of this course.
Your assessments on this programme take place throughout the year but at a time when you are ready to be assessed.
You will have the opportunity to work with organisations in the public, commercial or voluntary sector. There will also be an opportunity to gain additional industry recognised qualifications such as Metafit, Spin, Boxing and Kettlebells
A PVG from Disclosure Scotland will be required to undertake the mandatory placement which is embedded in the course.
What you will learn
Year 1:
Health Screening
Exercise Principles and Programming
Exercise Physiology & Anatomy
Nutrition for Fitness, Heath & Exercise
First Aid for Sport & Fitness
Exercise & Fitness: Health & Safety Management
Working Safely & Effectively with Clients
Plan, Teach & Evaluate a Gym Based Exercise Session
Fitness, Health & Exercise: Graded Unit 1
Plan Teach and Evaluate a Group Exercise Session
Psychology of Sports Coaching
Plan Teach and Evaluate Group Exercise with Music
Year 2:
Applied Exercise Prescription
Applied Fitness Assessment and Diagnostic Testing
Applied Nutrition and Health Assessment
Current Exercise Trends
Exercise to Music
Getting Started in Business
Fitness, Health & Exercise: Graded Unit 2
Core Strength & Posture
Deliver Personal Training Sessions
Metabolic Considerations for Personal Trainers
Planning and Management of Personal Training.
Corona virus forced me out of work and I made the decision to get back into education.
The best part of my course has been the variety of subjects which has helped me find my true passion and changed my life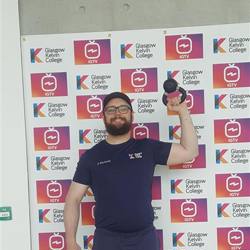 Morgan Bryden
HND Fitness, Health And Exercise
Entry requirements
At least one of the following:
One Higher, either PE or English
A relevant National Certificate (NC) or National Qualification (NQ)
You should also have a passion for sport and a good level of fitness is essential
Mature learners with experience but no formal qualifications, will be considered on merit.
English language skills at a minimum ESOL level 6
All candidates will participate in a recruitment process
Career Opportunities
Gym Instructor
Group Exercise Coach
Pursue careers in local and private fitness facilities.
Future prospects
Successful HND students can progress to 3rd year of the BSc Sports Studies course at The University of West of Scotland.
Real Industry Connections
The Fitness teaching team have worked across the fitness industry for many years, specialising in PT, gym management, Group Exercise. They have all worked for both the private and public sector.

`